360 Degree Feedback is a Multi-Rater Feedback System. Almost every Fortune 500 Company is using this in some form or the other. As a part of this process, a participant is assessed by a number of respondents including her/his manager, direct reports (team members), colleagues, internal customers and some times even external customers. The assessment is made on a survey questionnaire specially designed to assess Leadership Styles and their impact at the workplace, Managerial Qualities, Delegation and other behaviors considered critical for Leadership.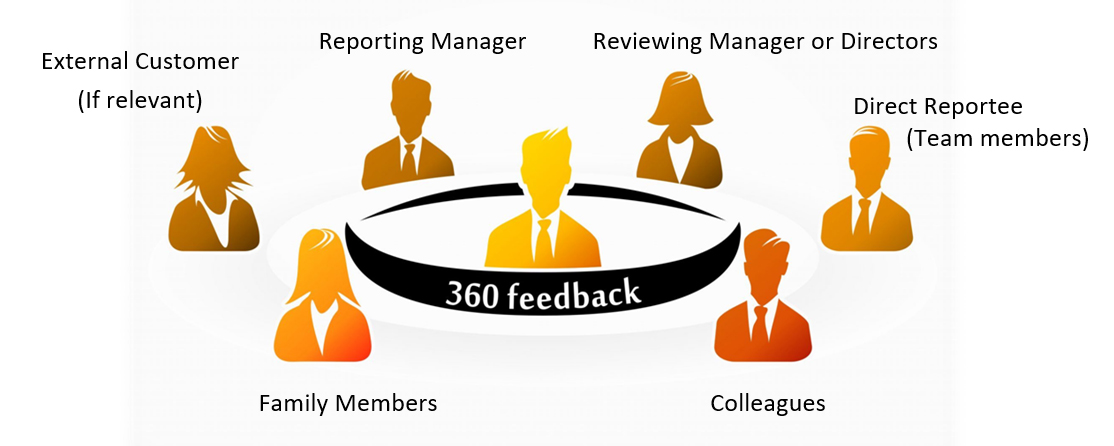 TVRLS is a Pioneer of 360 Feedback in India. The multi-rater tool designed by TVRLS is anchored on the research-based RSDQ model of leadership. This model has been used extensively in the Country by many leading business houses.
8000 + LEADERS & MANAGERS PROFILED
70000 + RESPONDENTS PARTICIPATED
300 LEADERSHIP WORKSHOPS
6 CERTIFICATE PROGRAMS
1500 + DEVELOPMENT DIALOGUES FOR FORMULATON OF INDIVIDUAL DEVELOPMENT PLANS
Such feedback from multiple sources provides a credible picture and can be used in the organization for:
Leadership Development.
Providing insights into the strengths and developmental areas of the participant in terms of their Behavioral Competencies, Leadership Styles, etc.
Identification of developmental needs and preparing development plans more objectively.
Enhancing role clarity and establishing increased accountability.
Generating data for various personnel decisions like nominations to training programs (Provided it is decided initially that the feedback is not meant only for the individual alone but is also to be shared with the organization).
Culture building
Reinforcing other change management efforts (TQM, Customer focus, Customer satisfaction enhancing interventions, Quality enhancing and cost-reducing interventions, etc.)
Aligning individual and group goals with organizational vision, values, and goals.
TVRLS Expertise Lies In:
Designing customized 360 Degree Feedback instruments to cater to the unique needs of the Organization
Facilitating 360 Degree Feedback based Leadership Development Workshops
Individual Development Dialogues based on the 360 Degree Feedback to arrive at Individual Development Plans or IDPs
Training Internal Facilitators to anchor the 360 Degree Feedback process internally
Providing IT interface and support to help organizations institutionalize the 360 Degree process
Readily available benchmark data industry-wise for Top and Senior Level Management
Resources
Books
60 Degree Feedback and Performance Management Systems-Volume I (Dr. T V Rao, Dr. Raju Rao)
360 Degree Feedback and Performance Management Systems-Volume II (Dr. T V Rao, Dr. Raju Rao, Dr. Gopal Mahapatra, Nandini Chawla)
360 Degree Feedback and Assessment Development Centers-Volume III (Dr. T V Rao, Nandini Chawla)
Life after 360 Degree Feedback and ADCs-Vol. IV (Dr. T V Rao, Dr. S Ramnarayan, Nandini Chawla)
The power of 360 Degree Feedback (Dr. T V Rao, Dr. Raju Rao)
Workbook
Leadership Development for Organizational Effectiveness-Workbook for 360 Degree Feedback based on RSDQ Model (TVRLS)
Handbook for Development Action Plans (TVRLS)
User Manual for participants of the 360 Degree Club (TVRLS)
Standardized 360 Degree Feedback Online tools designed for
Senior and Top Management
HRD Professionals
Non-Government Organizations (NGOs)
Young Managers
School/Institute Principals and Teachers
Individual and first-time users under '360 Degree Club'